07.08

Rockin' the Rabbit at Larison 2009
This year marked the 22nd annual running of the Larison Rock Hillclimb hosted by Emerald Empire Sports Car Club. It marked my third year and Dan's fifth at this excellent event. For those who've never participated in a hill-climb race it is one of the most thrilling forms of racing and the stakes are very high indeed! Instead of curbing, hay bales, and grass that surround most auto racing venues there are only rocks, trees, ditches, and drop-offs to punish the driver who ventures off course.
Map of Larison Rock from the EESCC website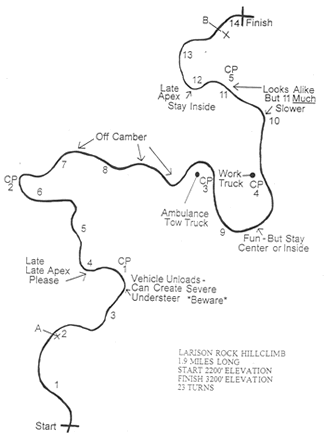 Larison Rock Road is deep in the scenic old-growth forest surrounding Oakridge Oregon, but each 4th of July weekend the silence is broken by the thundering of exhaust as dozens of drivers each try to set the best possible time up the 1.9 mile, 23-corner, single-lane road rising 1000 feet from start to finish. All drama aside it is truly a relaxed, friendly, and fun event. EESCC always puts on organized and safe events and despite the competitive atmosphere the overall mood is always one of camaraderie.
Friday evening tech inspection at the Best Western in Oakridge.

Day 1 saw Dan and I set personal bests, each of us Running up the hill in 2 minutes 13 seconds, not too shabby but we each knew we could do better.
On Day 2 my afternoon work assignment was to run the radar gun to clock the car's speeds as they passed through the "straight-away", the fastest part of the course it is actually just a short stretch of road after a long corner allowing the fastest cars to achieve speeds over 90 MPH! Our Rabbit is able to get just over 70 before hitting the brakes for the next turn, very impressive for a road with a sensible speed limit of 20 MPH.
Dan at 60 MPH on the "straight-away"

Several sacrifices were made to the mountain as they are every year, this driver from California met a Douglas Fir at speed in his ford Focus, give those engineers credit though, he walked away!
Though I set my personal best time ever up the hill this past weekend the day belonged to Dan. My time of 132.5 seconds was shattered by Dan's final run of just over 129 seconds! looks like our little grudge match will continue another year…
Get the rest of the story at Dan Crouch's Blog